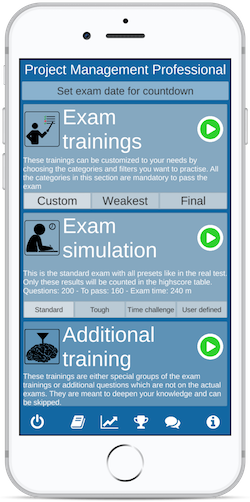 PM Professional exam
Pass your exam on the first try.
Intensive training
Carefully prepared questions to guarantee your exam success.
Realistic exam simulations
Exams are randomly prepared according to the official Syllabus.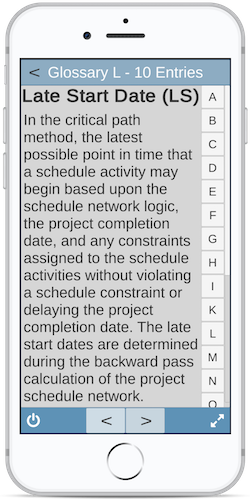 Detailed explanations
Every question comes with a detailed explanation. A glossary and list of deliverables support your training efforts.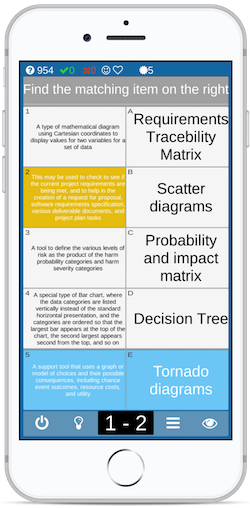 Supportive training methods
Additional training material to deepen your knowledge and understanding.
Constant progress check
Statistics, reports and progress monitoring
Prepare for your 
Project Management Professional exam
. PM Professional exam trainer contains 
950
multiple choice test
questions
crafted by an expert with 20+ years of experience in the field.
The following topics are covered
Project Management Fundamentals
Time Management
Scope Management
Cost Management
Human Resource Management
Communications Management
Risk Management
Procurement Management
Integration Management
Stakeholder Management
SaveSave
Customizable and smart training

Custom training
Pick a category, apply a filter and customize the training according to your needs and time.
Training of the Weakest
The App prepares a special training with 100 questions that you answered wrong (multiple times) or correct and then wrong (forgotten).
Final training
This training will be available once you have answered everything at least once and finishes when ALL questions have been answered correctly.
Realistic exam simulations
Questions you need to answer
Standard exam
The standard exam simulation follows the official Syllabus as closely as possible.It presents you with random questions from all exam relevant categories.
Tough exam
The App keeps track of all the questions you answer wrong or which take you a lot of time to think. Do a tough exam and see if you can succeed under the worst conditions.
Custom exam
Adjust everything and customize your exam experience whether you need a "quick exam in between" or a marathon challenge.
Time challenge
You only get a certain amount of time per question. This practices your ability to answer correctly under pressure.
Exam progress
Detailed pie charts for every training category and a summary of wrong, correctly and unanswered questions to visualize your current exam progress.
Success history
Monitor your exam history and see your improvements over time.
Performance indicators
Control your performance like your average response time and your exam readiness factor.
Personal highscores
Try to beat yourself every time. Challenge yourself by trying to be better, faster or both.
Global competition
Compete with others to boost your confidence. Be the best by passing the standard exam with the highest score within the shortest time.
Badges
Collect all the 16 Badges by completing different type of tasks that support your study efforts.
Free trial available on all platforms
iPhone/iPad
Work well on all iPhones and iPads (down to the iPhone 5). Just click the button below.
Mac OSX
Study on your MacBook Pro, Air or iMac and enjoy the benefits of a larger screen.
Windows
Download and install the latest Windows 64 Bit version from the button below.
Android
Download the App directly from here. Press the download button while on your phone.
Coupon codes only work on Windows and Android. Once you have paid by PayPal or Credit card above you will receive an email with the code within minutes.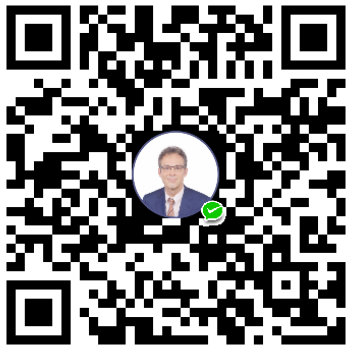 WeChat payment is 
NOT an automated process
. Depending on where you are it may take 
up to 24h
 until the full version is enabled. Please make sure to enter a 
nickname
 and your 
correct contact email address
 in the App (Usersettings, the little person-icon at the bottom) so I can identify you and enable your access. After you paid 
contact me
 per email (preferably from the App) and provide the following information:
The nickname you entered in the App
The Language you want