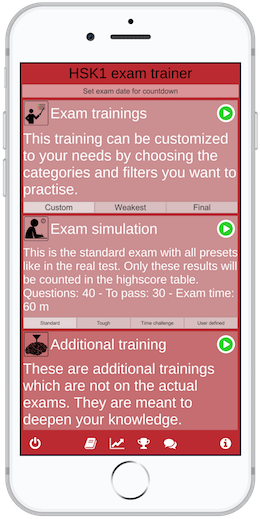 HSK1 exam preparation
What people say about my exam preparation
Incredibly helpful, passed my TOGAF exam on the first try. Many supporting functions that make this software different from other exam preparations. Paul Revan
Yes ! Got my Chinese drivers license. Lot of things to learn but thanks to this excellent preparation I was able to keep track of my progress and pass with ease. Linda Dern
This is amazing. Multiple choice exam preparation done right. Simple style, no distractions and yet powerful enough to attend to all your learning needs. Eva Zhang
Does what it should and let's you focus on your exam by supporting you with rich monitoring and preparation features. Hopefully more exams will be available soon. Timothy Weller
Improve your chances of passing any exam by visiting my Blog
Just learning the questions is not enough! Increase your passing chance by learning how to pass multiple choice tests, how to effectively plan your training, what to eat to stay alert, the best font for studying, how to paint your study room, where to place your desk, what to do exactly on your exam day. There are so many things you can improve to get an advantage. Don't miss it and visit www.improvestudyhabits.com.
Take a look
1.Study and collect
Study your material, read the recommended books or online resources and make notes. Collect questions and create your own training quiz.
2. Import and practice
Import your material into QuizzerWiz and use all the advanced training functionality to get ready for your big exam day.
3. Pass and sell Pass your exam with easy. And now make your material available to others. Create some extra income by offering your expert practice tests to fellow students.
Create your own exam preparation to pass with ease and then offer it to others