Recommended by the Shanghai traffic bureau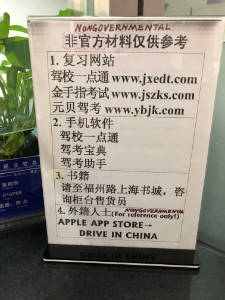 Customizable and smart training

Custom training
Pick a category, apply a filter and customize the training according to your needs and time.
Training of the Weakest
The App prepares a special training with 100 questions that you answered wrong (multiple times) or correct and then wrong (forgotten).
Final training
This training will be available once you have answered everything at least once and finishes when ALL questions have been answered correctly.
Realistic exam simulations
Questions you need to answer
Standard exam
The standard exam simulation follows the official Syllabus as closely as possible.It presents you with random questions from all exam relevant categories.
Tough exam
The App keeps track of all the questions you answer wrong or which take you a lot of time to think. Do a tough exam and see if you can succeed under the worst conditions.
Custom exam
Adjust everything and customize your exam experience whether you need a "quick exam in between" or a marathon challenge.
Time challenge
You only get a certain amount of time per question. This practices your ability to answer correctly under pressure.
Exam progress
Detailed pie charts for every training category and a summary of wrong, correctly and unanswered questions to visualize your current exam progress.
Success history
Monitor your exam history and see your improvements over time.
Performance indicators
Control your performance like your average response time and your exam readiness factor.
Personal highscores
Try to beat yourself every time. Challenge yourself by trying to be better, faster or both.
Global competition
Compete with others to boost your confidence. Be the best by passing the standard exam with the highest score within the shortest time.
Badges
Collect all the 16 Badges by completing different type of tasks that support your study efforts.
Free trial available on all platforms
iPhone/iPad
Work well on all iPhones and iPads (down to the iPhone 5). Just click the button below and it will take you to the iTunes Website.
Mac OSX
Study on your MacBook Pro, Air or iMac and enjoy the benefits of a larger screen. You can download and unlock it on the MAC Store.
Windows
Download and install the latest Windows 32/64 Bit version from the button below. This can only be activated with a Coupon code.
Android
Download the App directly from here, from the Samsung store or Google Play. Press the download button while on your phone.
Do you need more? Check out the App bundles in the store for huge savings
Full version of all english questions - only for Windows and Android
By clicking the button above, I agree with the
Terms & Conditions
.
Terms and conditions

One Code can be used for 1 operating system on 1 device. Each code can be used once. Codes are only available for Windows or Android, Apple Versions (MAC OSX or iPhone/iPad) need to be purchased from the App Store. To activate the code a working internet connection is required. The code will be send to you after you completed the payment. This usually should not take more than a few minutes. Please check you Spam folder as well. In case you do not receive the code within one hour please contact me.
Chinesischer Führerschein alle Fragen auf Deutsch freischalten (NUR Android)
By clicking the button above, I agree with the
Terms & Conditions
.
Allgemeine Geschäftsbedingungen

Ein Code kann genau einmal für 1 Betriebssystem auf 1 Gerät verwendet werden. Codes sind nur für Windows oder Android verfügbar, Apple Versionen (MAC OSX oder iPhone / iPad) müssen im App Store gekauft werden. Um den Code zu aktivieren, ist eine funktionierende Internetverbindung erforderlich. Der Code wird an Sie gesendet, nachdem Sie die Zahlung abgeschlossen haben. Dies sollte normalerweise nicht länger als ein paar Minuten dauern. Bitte überprüfen Sie auch Ihren Spam-Ordner. Falls Sie den Code nicht innerhalb einer Stunde erhalten, kontaktieren Sie mich bitte.
Coupon codes only work on Windows and Android (Downloaded APK). Once you have paid by PayPal or Credit card above you will receive an email with the code within minutes.
WeChat for Windows and Android (Downloaded APK)
RMB 50.00
WeChat payment is 
NOT an automated process
. Depending on where you are it may take 
up to 24h
 until the full version is enabled. Please make sure to enter a 
nickname
 and your 
correct contact email address
 in the App (Usersettings, the little person-icon at the bottom) so I can identify you and enable your access. After you paid 
contact me
 per email (preferably from the App) and provide the following information:
The nickname you entered in the App
The Language you want
Please note that one coupon code or one WeChat payment is for one device only. WeChat and Coupons only work for versions downloaded from this website. All other versions need to be paid in the corresponding store from Apple, Google or Samsung.
Make sure to check out my favorite Udemy courses and learn Chinese !
Improve your chances of passing any exam by visiting my Blog
Just learning the questions is not enough! Increase your passing chance by learning how to pass multiple choice tests, how to effectively plan your training, what to eat to stay alert, the best font for studying, how to paint your study room, where to place your desk, what to do exactly on your exam day. There are so many things you can improve to get an advantage. Don't miss it and visit www.improvestudyhabits.com.
Take a look